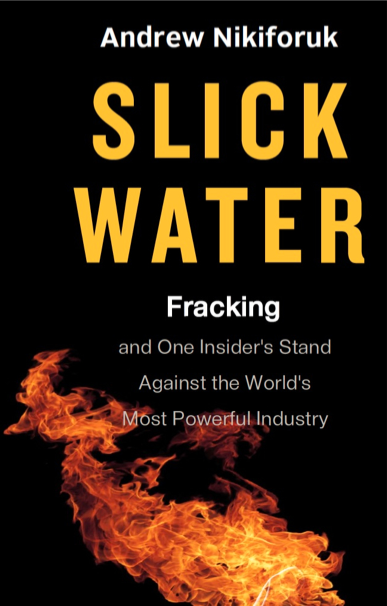 Slick Water is a true-life noir filled with corruption, incompetence, and, ultimately, courage. It is a deeply informative, disturbing, and important book.


-Elizabeth Kolbert, 2015 Pulitzer Prize Winning author of The Sixth Extinction
2015 Shaughnessy Cohen Prize for Political Writing Finalist


Andrew Nikiforuk
Slick Water: Fracking and One Insider's Stand Against the World's Most Powerful Industry

Greystone Books and the David Suzuki Institute


Jury Citation

Jessica Ernst, an oil patch consultant, lived a quiet life in rural Alberta, until one day she realized she could light her tap water on fire. A major Canadian oil company had fracked hundreds of gas wells near her home, contaminating the village's water supply. Told through the lens of his inspiring protagonist, Andrew Nikiforuk's book explores the history of fracking, as well as the environmental and human toll that our society's obsession with oil has wrought.
Slick Water
is an impressive piece of investigative journalism and storytelling.

About the Book

When Jessica Ernst's well water turned into a flammable broth that even her dogs refused to drink, the biologist and long-time oil patch consultant discovered that energy giant Encana had secretly fracked hundreds of gas wells around her home, piercing her community's drinking water aquifer. Since then, her ongoing lawsuit has made her a folk hero in many places worldwide where fracking is underway. Andrew Nikiforuk weaves Ernst's story with the science of fracking and the environmental repercussions left in its wake.
Slick Water
raises dramatic questions about the role of Big Oil in government and society's obsession with rapidly depleting supplies of conventional oil and gas.


From
Writers Trust
The Writers' Guild of Alberta Announces

The 2016 Alberta Literary Awards Shortlist!
The Writers' Guild of Alberta is thrilled to announce the finalists for the 2016 Alberta Literary Awards! Each year, the Alberta Literary Awards recognize and celebrate the highest standards of literary excellence from Alberta authors. Winners will be announced and awards presented at the Alberta Literary Awards Gala on June 4, 2016 in MacDonald Hall at SAIT in Calgary. The celebration will take place alongside the WGA 2016 Conference, "Creativity and Happiness."
The Writers' Guild of Alberta would like to send their congratulations to those who have been placed on this year's Alberta Literary Awards shortlists and extend our sincere gratitude to all of this year's award sponsors.
Our awards jurors deliberated on more than 200 submissions to select 25 finalists in eight categories. Finalists represent excellence in literary work written by Alberta authors and published or created in 2015. We encourage you to check out these fantastic titles:
Wilfrid Eggleston Award for Nonfiction
(Supported by Jane Stevens and the WGA Board of Directors)
Stephen Bown (Canmore) – White Eskimo: Knud Rasmussen's Fearless Journey Into the Heart of the Arctic, Douglas & McIntyre
Will Ferguson (Calgary) – Road Trip Rwanda, Viking Canada (Penguin)
Andrew Nikiforuk (Calgary) – Slick Water, Greystone
http://writersguild.ca/the-2016-alberta-literary-awards-shortlist/